If you have a dispute in the Supreme Court, a judge may refer your matter to mediation to see if the matter can resolve by agreement between the parties.
Judicial mediations take place in a dedicated space with private meeting rooms at the Court's Mediation Centre on Level 6 at 436 Lonsdale Street Melbourne. If the matter being mediated is a circuit matter (that is, outside of Melbourne), the mediation usually takes place in rooms at the court. 

Before the mediation begins, the mediator will review the matter by reading the Court file and any other documents provided for the mediation by the parties to the dispute (if provided in a timely manner prior to the mediation).
People participating in a mediation can bring a support person with them to mediation. All parties attending the mediation, and the mediator, are informed prior to the mediation of the names of the people who will be present at the mediation. Whether a support person can attend a joint session may depend on the approval of the other parties. A joint session is part of the mediation where all parties gather in one room together with the mediator.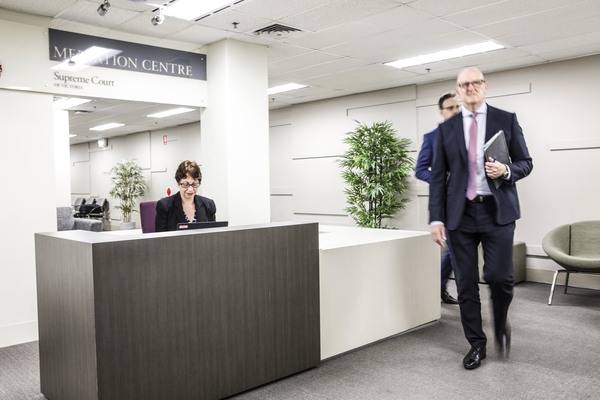 Each mediation is tailored to the particular dispute, so a mediator may meet with each party individually at the commencement of the mediation or may begin with a joint session of all parties to the dispute and then meet with the parties separately. The mediator will keep everyone informed of the mediation process or format that will be undertaken during the mediation.    
The mediator will ask the lawyers and the parties to describe their view of the dispute, encouraging listening and the understanding of all perspectives. All parties are expected to attend in good faith, having thought about what they want and need to achieve in order to reach a resolution. 
Once the issues about the dispute are identified and discussed, possible options and alternatives about how the dispute may be resolved are introduced and discussed. Mediators, including judicial mediators, do not decide the outcome of the disputes but assist the parties to consider the best way to resolve the dispute without further court hearings.
The Supreme Court's Judicial Mediation Model provides more information about what happens at a mediation and the role the judicial mediator will play to assist parties to reach an agreed resolution.
The goal of the mediation session is to reach a suitable, final and legally binding agreement between the parties.
If a matter is resolved at mediation, it is usually best if terms of settlement are drawn up and signed at the end of the mediation. Therefore, it is essential that a decision is made in advance about who has the authority to make an agreement to resolve the matter and that they are present at the mediation. Lawyers are encouraged to prepare a draft agreement and bring an electronic version to the mediation.