The Supreme and County courts are hosting a free seminar on Thursday 14 November 2019.
Free morning seminar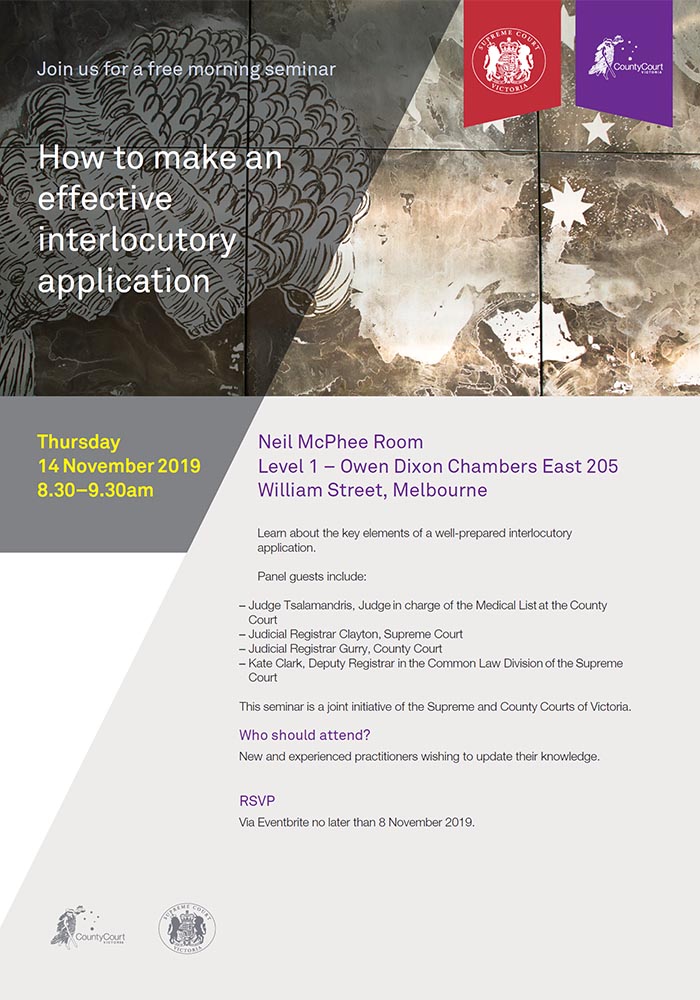 On Thursday, 14 November 2019, the Supreme and County courts are hosting a free morning seminar entitled, 'How to make an effective interlocutory application'.
In this joint initiative of the Supreme and County courts of Victoria, a panel of judicial officers will discuss the key elements of a well-prepared interlocutory application and provide practical advice on making a variety of applications.
The panel
Judge Tsalamandris, Judge in charge of the Medical List at the County Court
Judicial Registrar Clayton, Supreme Court
Judicial Registrar Gurry, County Court
Kate Clark, Deputy Registrar in the Common Law Division of the Supreme Court
Who should attend?
The seminar is primarily aimed at newer members of the profession. More experienced practitioners wishing to update their knowledge are also encouraged to attend.
Available via live stream
The seminar will be live streamed and available to view on-demand on the County Court's website.
Watch the seminar online here.
Event details
Thursday, 14 November 2019, 8.30 am - 9.30 am
Neil McPhee Room, Level 1 - Owen Dixon Chambers East
205 William Street, Melbourne
Register via Eventbrite no later than 8 November 2019
Published on 24 October 2019